«&laquo&nbspBACK
How To Pick A Paint Color
As a designer, the number one question I get asked is how do I go about picking a paint color. I wish there was a simple answer, but what I can tell you is there are some easy guidelines I've developed over the years that make spinning the color wheel much less dizzying.
In college physics at East Carolina University in Greenville, NC, I first experimented with a spectrophotometer, a device that measures color objectively. It was only later as a designer that I realized color is much more subjective. What looks sublime to you may look sub par to another and ultimately what matters most is how you feel about the color in your space.
So instead of telling you that red has been shown to raise your heart rate or that green can relax or rejuvenate you, I'm gonna walk you through the easiest way I know to go about picking a paint color so that you can do it for yourself. Granted, there are so many things to consider when choosing a color, but this is a shortcut that always works in a pinch. Easy peasy.
First, identify the most visually pronounced element in the room. It's the thing you're eye immediately goes to when you enter. This could be the flooring, a large sectional, an area rug or an over-sized piece of art. In the case of the picture below, it's the stone fireplace.
Next, ask yourself, do you want to complement or contrast this large element based upon whether or not you want it to stand out or blend in. You may love your wide plank oak floors and want them to be featured. If so, we will choose a contrasting color for the walls. Or you may want your slate blue sectional sofa to blend in. If so, we will choose a complementary color for the walls.
Although the stone fireplace is a textural focal point, I wanted it to blend into the space without overpowering it. This means I needed to choose a wall color that complements it.
When going with a complementary color, the simplest approach is to choose a color that already lives in the existing color palette of the featured item. Here, I opted for one of the darker field colors in the stone. Also, you may consider bringing other colors from the element into the space. As you can see in the picture above, the area rug is similar to the colors in the stone as well. This will help in the blending process.
On the other hand, when contrasting an element to increase its visual impact in the space, choose a color that is not found in its current palette. This is where the sky is the limit. In fact, some of my most interesting rooms I've ever designed started with off beat color combinations that proved very successful in the end.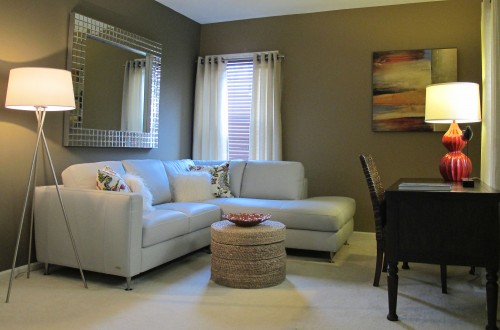 In the room above, I wanted to sectional to stand out so I opted for a medium taupe color on the walls to contrast the oyster grey color of the sofa. Then I bridged the wall color to the color of the sectional with pieces of furniture like chairs and tables and accessories like pillows, light fixtures, art, etc. This part of the design process I love; bringing two colors that at first appear to have no relationship. This is what allows me to make any color combination work.
Now, to avoid back-and-forth trips to the paint store trying out different colors, I recommend investing in a paint fan deck. For about $30 you can have every color at your disposal in your home. This way, you can hold the deck up to the featured piece in the room and look for either a complementary or contrasting color. Paint fan decks are available for every paint manufacturer on-line or in stores.
So whether you're starting with a blank slate or simply looking to make a change, the right color on the wall can make or break a room. And only you know what's right.
Like I said, easy peasy.
Until next time…
P.S. IF YOU WOULD LIKE TO ATTACH A PICTURE TO YOUR NAME ON THE BLOG POSTS, GO TO WWW.GRAVATAR.COM AND CLICK ON GET YOUR GRAVATAR TODAY!